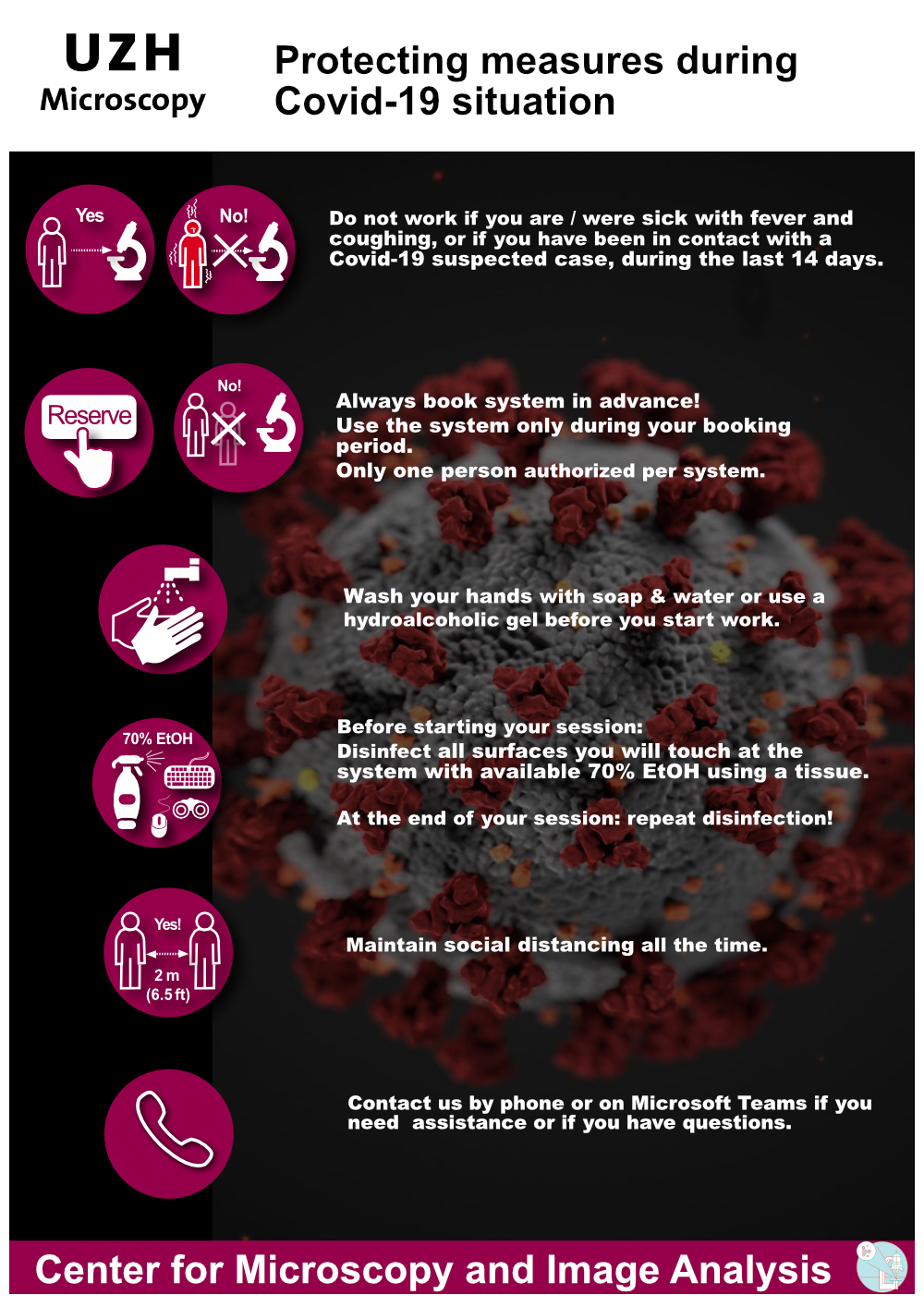 The Center for Microscopy and Image Analysis
Dear User of the Center
Protecting measures due to corona pandemic starting from 27th of April:
For working at any system, it is your responsibility to have the necessary approvals from the UZH, faculty or group leader.
Only 1 healthy (no fever, coughing for the last 14 days) person is allowed per system.
Disinfect all surfaces you contact during work before and after using the system with provided 70% ethanol.
Maintain social distancing all the time.
Current or future project discussions are available using virtual meetings with ZMB staff. For more information and contact details, please refer to (https://www.zmb.uzh.ch/en/aboutus/team.html).

Our staff is mainly working from home.
We are still able to help you and can be reached by email, Microsoft Teams and phone. Help is available from 0900 – 1700.
---
The Center for Microscopy and Image Analysis is an open imaging core facility of the University of Zurich. The center operates microscopy-related resources and collaborates with scientists in microscopy-related projects.
Services
We support scientists in using light and electron microscopes, instruments for sample preparation and tools for image processing and analysis.
Research
In collaboration with research groups of the UZH we support microscopy and imaging related projects in sample preparation, electron and light microscopy.
Teaching and Training
Teaching of basic and advanced microscopy is done in practical courses as well as lectures. In order to use any of our microscopy systems users are trained individually with a special focus on research projects.
About the Center for Microscopy
We are committed to cutting-edge microscopy supporting life science research. Various advanced microscopy systems are available via the Center at various locations of the UZH.